Randall Denley: The Ontario PCs might soon face a Liberal leader to actually worry about
Yasir Naqvi is a centrist, politically experienced, and an immigrant in a province that is becoming increasingly diverse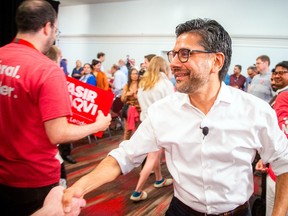 Article content
The Ontario Liberal leadership race is as important for Ontario's Progressive Conservatives as it is for the Liberals. As long as the Liberals continue to flounder, the PCs will continue to govern.
Article content
We apologize, but this video has failed to load.
Randall Denley: The Ontario PCs might soon face a Liberal leader to actually worry about
Back to video
While it was too much to hope for another gift like the Liberals' last lacklustre leader, Steven Del Duca, the contest got off to a splendid start from a PC perspective. The first two candidates who announced they were running for Liberal leader were Nathaniel Erskine-Smith and Ted Hsu. Erskine-Smith is a Toronto MP, Hsu a Kingston MPP who has also served a term as MP. Both are brainy, well-educated guys with limited name recognition and few political accomplishments to show for their time in office.
The good news ended last weekend when former provincial cabinet minister Yasir Naqvi made his long-expected entry into the race. This is a guy who should give Liberals hope — and the PCs concern.
Naqvi is a centrist, articulate, politically experienced, and an immigrant in a province that is becoming increasingly diverse. He's also likeable, a surprisingly rare quality in our current crop of political leaders.
Article content
Recommended from Editorial
Unlike his opponents, Naqvi has significant provincial political experience. He served for 11 years in Ontario Liberal governments, holding four cabinet positions, including attorney general. Having been in the cabinet of former premier Kathleen Wynne is a mixed blessing. The PCs certainly used that experience against Del Duca, calling him Wynne's "right-hand man," although he was hardly that.
Still, while being premier of Ontario is apparently a job that requires no provincial government experience, experience is certainly desirable. Premier Doug Ford had a rough start to his premiership as he learned on the job.
Article content
Naqvi, who currently serves as MP for Ottawa Centre, went down with most of the Liberal team in the 2018 provincial election, but he was never high on voters' hate list, not being one of the party's ideological standard bearers.
When Naqvi has been asked the inevitable question about his former government's failures, he cites the sale of most of Hydro One as its big mistake. It was a big mistake, but there are so many more better examples. The Liberals' convoluted cap-and-trade plan, their excessive wind and solar subsidies, the $1 billion gas-plant scandal, and the years of freezing hospital budgets stand out.
Naqvi, 50, was a lawyer before entering politics. Like many successful immigrants, he believes people get ahead through hard work. One of his current lines is that it's not government's job to tell you how to live your life, but to help you live your life better. Conservatives would give a thumbs-up to at least the first part of that.
Article content
Naqvi's attack on Ford will focus on health, education and the economy. He says Ontario has to do better on all three. Those are areas where Ford is expending a lot of energy and money, but that hasn't stopped unions and the left from pushing the false idea that he is destroying health and education with cuts and privatization. In politics, what people believe is more important than the truth.
Naqvi is the best candidate now in the race, but what about Bonnie Crombie, the popular Mississauga mayor? She's almost certain to run and would constitute a break from the Liberals' past. Crombie is supposedly only exploring the possibility of running, but it's not too early to start making mistakes. In a media interview, she said she would govern from the centre-right when it came to spending and argued that the Wynne government had spent too much on health care and child care. That would position her to the right of Ford. The centre-right comment was later retracted.
Article content
Inexplicably, Crombie is urging the federal government to amend the national anthem to change "our home and native land" to "our home on native land." She couldn't even convince her own council to send a letter to the government urging the change.
Crombie does have an ability to irk Ford, but if that was an indicator of electability, Andrea Horwath would be premier now, and not the mayor of Hamilton.
By the next election, Ford will have been in power for eight years. It would be surprising if voters are not willing to seriously consider an alternative. It's not like they are in love with Ford now. An Angus Reid Institute poll this week on provincial premiers' approval ratings shows only 33 per cent think Ford is doing a good job. He's been stuck at that number for nine months. It's the third-lowest rating in the country, and it has been achieved without an effective opposition.
The leadership of the seven-seat Ontario Liberal Party might seem like the worst job in politics, but there is an opportunity there. A dogged fellow like Naqvi might just be the person to grasp it.
Randall Denley is an Ottawa journalist, author and former Ontario PC candidate. Contact him at randalldenley1@gmail.com