N.B. premier prepared to call election over LGBTQ schools policy
The changes, unveiled by Education Minister Bill Hogan at a press conference in Fredericton, immediately triggered a mini revolt, and eight PC MLAs boycotted the legislature's morning's proceedings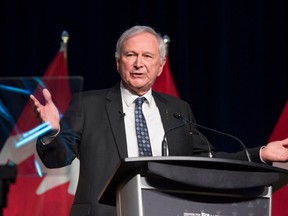 Article content
New Brunswick Premier Blaine Higgs, facing an internal revolt from eight of his MLAs over freshly revealed and controversial changes to the policy that sets gender rules in public schools, says he's prepared to fight an election over the issue if need be.
Article content
We apologize, but this video has failed to load.
N.B. premier prepared to call election over LGBTQ schools policy
Back to video
But it doesn't appear he'll have to make that call immediately.
The review of Policy 713, a source of growing controversy since Brunswick News first revealed it was underway, has engulfed the government for weeks.
Three changes to the policy were unveiled on Thursday.
Recommended from Editorial
They include the removal of a reference to all students being able to participate in curricular, co-curricular, and extracurricular activities "consistent with their gender identity," and the introduction of "private universal changing areas" in all schools.
The final change involves transgender or non-binary students under 16, and how they self-identify at school. It creates a new process for the student to tell their parents about any change in their preferred first names – if the student wants their name change to be used in official records.
Article content
Previously, the student had total control over the decision about whether to tell their parents.
It now appears that if the student doesn't want to have their preferred name used officially, teachers will be expected to refer to them by their birth name, which is often referred to as "dead naming." But the policy doesn't explicitly say that; the language is vague.
The changes, unveiled by Education Minister Bill Hogan at a press conference, immediately triggered a mini revolt, and eight PC MLAs boycotted the legislature's morning's proceedings.
The MLAs who boycotted the morning proceedings – cabinet ministers Dorothy Shephard, Trevor Holder, Daniel Allain, Arlene Dunn, Jeff Carr and Jill Green, and backbenchers Ross Wetmore and Andrea Anderson-Mason – later explained their absence in a short statement, saying they wanted to show their "extreme disappointment in a lack of process and transparency."
Article content
But by the afternoon, they had all returned to their seats.
Asked about the Tories' drama, Liberal Leader Susan Holt said if any government bill is declared a matter of confidence, the Liberals will vote to bring down the government because the party feels Higgs has shown that he can't govern "responsibly."
Green party Leader David Coon said the premier has lost the support of a "significant" part of his caucus and "should go."
But the premier gave no indication he will, or is prepared to back down on the changes to the policy. Rather, he said, he'll go to the polls if that's what's required.
"It could potentially force an election, that's a possibility," he said.
Asked if he'd try to trigger a vote, Higgs replied: "It's not [outside] the realm of possibility. I believe that strongly in the case of finding a solution here where we do not exclude parents in their child's life."
Article content
For Higgs to maintain his majority in the house, he needs 25 Tory MLAs to support him on votes. As it stands, there are 29 Tory MLAs, including Speaker Bill Oliver. There are 19 opposition members – 16 Liberals and three Greens. There is also one Independent MLA, former education minister Dominic Cardy, who has been critical of the policy review.
Asked if the eight MLAs had been told about the changes before they were unveiled, Higgs didn't answer directly, but said the Tories have had "endless meetings" about Policy 713.
"There's been hours and hours of discussion," he said.

Policy changes
The decision to review three parts of the policy has been condemned by the Liberals, Greens, and many LGBTQ groups.
At the press conference where Hogan unveiled the changes, which he described as "clarifications," it quickly emerged that there were some differences between what's in the new policy and what Hogan was telling reporters.
Article content
One example was the policy's language about when a student under 16 needed to tell their parents that they'd changed their preferred name. The policy discusses "when" the student would tell their parent, but Hogan said the wording should be "if and when." The government quickly changed that language, and said some other changes would be made.
Hogan denied that the on-the-fly changes prove that the government rushed the new policy out.
"I think that in the three small parts that we're looking at, we've taken a number of weeks to do that," he said. "The entire policy had on and off consultations for three months."
Previously, section 6.3.1 of Policy 713 regarding students' self-identification read: "School personnel will consult with a transgender or non-binary student to determine their preferred first name and pronoun(s). The preferred first name and pronoun(s) will be used consistently in ways that the student has requested."
Article content
That rule now only applies to students 16 and over.
Another part of self-identification, Section 6.3.2, has substantially changed.
The policy used to read: "Transgender or non-binary students under the age of 16 will require parental consent in order for their preferred first name to be officially used for recordkeeping purposes and daily management (EECD, school district, and school software applications, report cards, class lists, etc.)."
The previous version also said: "Before contacting a parent, the principal must have the informed consent from the student to discuss their preferred name with the parent. If it is not possible to obtain parental consent for the use of the preferred first name, a plan will be put in place to support the student in managing the use of the preferred name in the learning environment."
Article content
The first sentence of the updated section is the same, but the second is very different.
"If it is not possible to obtain consent to talk to the parent, the student will be directed to the appropriate professional (i.e. school social worker, school psychologist) to work with them in the development of a plan to speak with their parents if and when they are ready to do so. If it is not in the best interest of the child or could cause harm to the student (physical or mental threat), the student will be directed to the appropriate school professional for support," the second sentence now reads.
Hogan said the government had no intention of embarking on a "witch hunt" to see if teachers are enforcing the new rules.
The second change to the policy discusses sports participation.
Article content
Section 6.1.5 used to read: "All students will be able to participate in curricular, co-curricular, and extracurricular activities that are safe, welcoming, and consistent with their gender identity."
The new section eliminates the reference to gender identity.
"All students will be able to participate in curricular, co-curricular, and extracurricular activities that are safe and welcoming," it reads.
The final change is related to universal spaces, and is a new addition to Policy 713.
The old policy read: "All students will have access to washroom facilities that align with their gender identity. The washroom facilities will be available to all students in a non-stigmatizing manner. All schools will have at least one, universal washroom facility that is accessible at all times.
Article content
The new policy adds an extra sentence.
"Private universal changing areas will be available in all schools," it reads.
Tensions rise
Question period was dominated by debate over the policy review, and Holt said the education minister had made a big mistake.
"The responsibility is to put in place well-crafted policies that protect New Brunswickers, and that's not what has happened here," she said. "Here we have a government that appears to have chosen the rights of the parent over the rights of the child."
"There's a legal principle that it's in the best interest of the child that trumps all. You're putting teachers in an extremely challenging position under a dangerous notion of public trust to choose a parent's right over a child's right. We need the government to stand up and protect 2SLGBTQIA+ students. Will the minister fix the policy so it does that?"
Article content
Hogan, who was a principal and teacher for 35 years, replied that he knew all about public trust and the responsibility of teachers to maintain it.
"This is a challenging situation. We're trying to balance supporting our students and at the same time protecting parents' rights," the minister said. "This is not a topic that needs grandstanding and not supporting parents' rights."
Hogan said the government supported the rights of marginalized students, but wouldn't exclude families from such conversations.
"The leader of the Opposition has the luxury of criticizing but not providing solutions, not saying how she will respect the rights of families, how she will work with parents to manoeuvre through this murky water."
Article content
An emotional Green MLA Megan Mitton said the government's insistence on telling parents the names young students had chosen for themselves if they were gay or trans would cause substantial harm.
"What is this minister even talking about? Has he listened to any of the experts? Has he listened to anyone in Pride in Education, the child and youth advocate, the women's council, all of the pride groups? All of the trans and non-binary students? Their parents, who are saying their lives are at risk? This is absolutely unacceptable, and I really hope everyone in this house, including on that side, will stand up against this nonsense. It's beyond nonsense. It's harmful. There are lives at risk."
Hogan said he understood the difficulties many students go through.
"In my 35 years in education, I've seen a lot of things. I've seen a lot of kids who are at risk for a whole variety of reasons. I've seen kids who were cutters. It was absolutely shocking to me to see how much self-harm they had done to themselves. There is no intent here to create more self-harm in children. But there is a recognition that parents have a right to be involved in their children's education."