Michael Higgins: Governor General Mary Simon can't recognize a royal crime when she sees one
The King's representative condoned the vandalism of a Queen Elizabeth II statue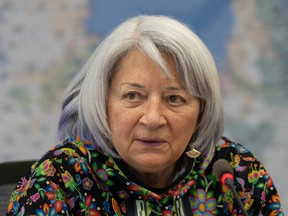 Article content
After a statue of Queen Elizabeth was defaced, one would hope that at least the Crown's representative in Canada would denounce the vandalism.
Article content
We apologize, but this video has failed to load.
Michael Higgins: Governor General Mary Simon can't recognize a royal crime when she sees one
Back to video
Such hopes were dashed when Governor General Mary Simon addressed the issue this week and seemed to actively encourage such criminality.
She not only refused to condemn the act, "I can't say whether it's right or wrong," but condoned it, "I think it's really important for Indigenous people to express themselves in whichever form they want."
As the first Indigenous person to hold the title of governor general, Simon obviously knows she has a role to play in reconciliation. And, indeed, as an Indigenous person and the Crown's representative, she has a foot in both camps and is ideally suited as a mediator.
But to endorse the vandalism of a statue of Queen Elizabeth will not put us any further along the path to reconciliation. If she wishes to be an outspoken advocate for Indigenous people, she might want to reconsider the job she's in.
Article content
For the role of the governor general is clear. As set out on the GG website under constitutional duties, "The governor general exercises the powers and responsibilities of the Head of State, His Majesty The King. As such, the governor general is non-partisan and apolitical."
Non-partisan and apolitical would seem to be at odds with encouraging criminal acts.
The Canadian Press reported that on Wednesday Simon held meetings at the Manitoba legislature with Premier Heather Stefanson and later Indigenous leaders.
Two years ago, during protests at the legislature, statues of Queen Elizabeth and Queen Victoria were hauled down.
Last week, the Queen Elizabeth statue was replaced but was quickly defaced with the words "colonizer" and "killer."
Article content
Asked about the damage, Simon said her office was apolitical (so she knows what she's supposed to do) and talked about the need for understanding (we can all agree on that.)
But she added, "I think it's really important for Indigenous people to express themselves in whichever form they want, but it's also very important for us to recognize that the effects of colonization and residential schools have had such a devastating impact on the cultures and identity of Indigenous people, that there is frustrations. There's anger.
"And they will, from time to time, express that anger and the frustrations. For me, as a representative of the King, my role is to help understand what's going on. So in a way, I can't say whether it's right or wrong. It's right for the people maybe who are doing it but wrong for the people that want the history to continue as it was."
Article content
Anger doesn't excuse criminality, nor does it further understanding. It certainly doesn't further reconciliation.
Days before the Coronation this year, Simon and Indigenous leaders met with King Charles.
She later put out a statement saying, "The King understands the importance of walking the path of reconciliation with Canada and Indigenous peoples. Discussions like these are vital. They will start slowly, and grow, forming the pillars of a renewed relationship with Indigenous peoples that is based on respect and understanding."
Defacing a statue of the King's mother does not show respect and understanding.
The statement added, "And while we know words are important, it is through our actions that we can make the most difference."
Article content
Presumably she didn't mean violent actions, but after this week we can't be sure.
Recommended from Editorial
It may be that Simon was caught unprepared for the question about the statue vandalism and went further than she intended in excusing the crime. But as the King's representative is it really beyond her to condemn such an act? Especially as it was such a potent symbol of the Crown?
Because symbols matter, tradition is important, and history — all of our history — needs to be taken into account.
Last year she took part in her first Remembrance Day as governor general and later praised "the courage of those who paid the ultimate sacrifice to protect the values we hold dear."
Article content
In a statement she added, "I shared with all Canadians the deep love and pride I have for our country. In addition, I learned that governors general play an important role at home and overseas representing Canada on State visits, presenting honours and awards of excellence, congratulating Canadians on milestones and sharing in moments of sorrow. In these moments, I have witnessed the values and priorities we cherish, and I will honour this trusted role."
Canada may not be perfect, it may have a lot more to do on the path to reconciliation, and its history may be upsetting to some. But, as Simon said, it does have values, built through hard work and sacrifice.
If Simon wishes to honour her role and express her deep love and pride for Canada, she might start by condemning the vandalism against a symbol of the former, and much-loved, monarch of this realm.
National Post