Melanie Joly says rules-based system is 'cracking', launches major overhaul of Global Affairs Canada
Foreign Minister Mélanie Joly says the international rules-based system is "cracking" as she launches a major overhaul of her department that is hobbled by a risk averse culture, lack of expertise and recruitment issues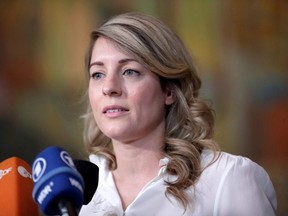 Article content
OTTAWA — Foreign Minister Mélanie Joly says the international rules-based system is "cracking" as she launched a major overhaul of her department that is hobbled by a risk averse culture, lack of expertise and recruitment issues.
Article content
We apologize, but this video has failed to load.
Melanie Joly says rules-based system is 'cracking', launches major overhaul of Global Affairs Canada
Back to video
Wednesday, Joly released a report called "Future of Diplomacy" and her vision for a revamped Global Affairs Canada to a room full of Canada's ambassadors.
Both her speech and her report acknowledge many of the longstanding issues plaguing the country's foreign service and recently reported by the National Post. She promised that a plan to address the issues and implement her reforms would be made public on Sept. 1.
"The rules-based system that has kept us safe is cracking, and the very institutions that are built upon it are under strain. The invasion of Ukraine by Russian President Putin is evidence of that," Joly told ambassadors.
Article content
Joly promised that Canada would boost the number of diplomats it has at international organizations such as the United Nations as well as a slew of countries across the world, though she did not name which ones.
But more importantly, she said the review would make a number of important cultural, administrative and human resources changes within the department to make it more fit for service in the 21st century.
"The first thing to do is actually to acknowledge that there is this culture and that we need to change it," she told National Post in an interview Tuesday. "The department and the people working within the department have been waiting for a long time to address the operational issues and the cultural issues at GAC."
Article content
In her report and her speech, she promised to increase and improve recruitment, make the department less management-heavy, provide it with more opportunities for language training and specialization as well as boost supports for diplomats' families.
"Most critically, and I can't stress this enough, what we heard is that we need to invest in our workforce," Joly told the room full of diplomats, noting a need to "revamp recruitment and training," namely to increase diversity.
"We need to build a workforce that is skilled, that is bilingual, that is healthy, and that is dedicated to excellence."
She also noted that the department would be better prepared to handle cyber incidents as the threat grows internationally and locally. Last year, GAC was the victim of a major cyberattack that shut down certain internal systems for over a month.
Multiple observers and experts have attributed the attack to Russia, though the department has consistently refused to confirm it.
"We must ensure that GAC has the tools, the processes and the culture of prioritization needed to work efficiently and to be protected from cyber threats," Joly said.