Liberals, Conservatives ready to stop House from rising for summer break
Pierre Poilievre is looking to rewrite the budget, while Mark Holland wants to a permanent hybrid Parliament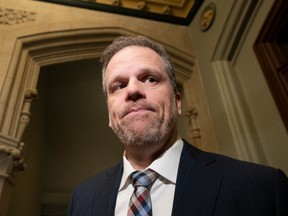 Article content
OTTAWA — Conservatives and Liberals are both threatening to block the House of Commons from rising for the summer recess to make sure their demands are met.
Article content
We apologize, but this video has failed to load.
Liberals, Conservatives ready to stop House from rising for summer break
Back to video
Conservatives say they are prepared to stay in Ottawa for as long as it takes to rewrite a new budget, while Liberals say no one is going home for the summer until their new proposal to make hybrid House of Commons sittings permanent is adopted.
On Thursday, Conservative Leader Pierre Poilievre reiterated his call for the Liberal government to scrap its budget bill. But it passed third reading in the House of Commons later in the day with Liberal and NDP support.
"Conservatives are prepared to work all summer long to rewrite a budget that balances budgets in order to bring down inflation and interest rates and that cancels all increases in taxes. Canadians cannot afford to pay more," said Poilievre during a press conference in Ottawa.
Article content
Recommended from Editorial
Minutes later, government House leader Mark Holland blasted Poilievre for raising a fictitious budget when a real one was well underway in the parliamentary process.
"We've already presented a budget and, by the way, it's supported by the House of Commons. So he's saying he wants a new budget. What would you present, Mr. Poilievre? What would you cut? (…) What would your budget look like? Put it on the table," he said.
"I mean, if we want to talk about fake things, let's talk about dragons and unicorns, right?"
On Thursday, Holland tabled a proposal that would allow MPs to continue participating virtually in debates and committee meetings and vote electronically. He said it is important that these changes be voted on before the end of June, which is when the current hybrid measures expire.
Article content
"We have, at the beginning of every session, as folks will remember, had to debate these provisions. And that has taken a lot of time at the beginning of every session," he said. "Now I think it's time to not do this every time we start a new session of Parliament."
Holland said his proposal would be debated next week but could not speculate as to when a vote would occur — pointing to recent tactics of obstruction by the Conservatives that have slowed debate on the budget bill, among many other pieces of legislation.
"But I want to be absolutely clear. We're not leaving Parliament until we get hybrid adopted," he said.
The House is set to rise for the summer on June 23 at the latest, but MPs have been reconvened for occasional summer sittings during pandemic years to adopt emergency measures to help Canadians.
Article content
Poilievre promised this week Conservatives would use all the procedural tools at their disposal to delay the adoption of the billions of dollars in the budget bill, which he claims will stoke inflation.
The Conservatives presented more than 900 amendments, essentially scrapping all the clauses contained in the bill. But the Speaker in the House rejected some of them and regrouped the rest of the amendments into nine votes that were put to MPs on Wednesday afternoon.
The process took four hours, during which Conservatives complained of technical issues during the electronic voting process so many times that Liberals and the NDP asked the Speaker to investigate if those were real issues.
Poilievre spoke in the House for nearly four hours on Wednesday evening, running the clock until the end of the budget debate at midnight. Conservative House leader Andrew Scheer attempted to get unanimous consent for Poilievre to be allowed to speak longer but was denied.
The Liberals, with the support of the NDP, voted for a time allocation that limited debate on the budget bill to ensure that the vote would happen this week.
Having exhausted their tools in the House, the Conservatives are now counting on their senators to continue the obstruction in the Upper Chamber next week.