India angered by apparent Sikh parade float in Canada portraying assassination
India's External Affairs Minister Subrahmanyam Jaishankar argues the incident shows Ottawa's lax approach to extremism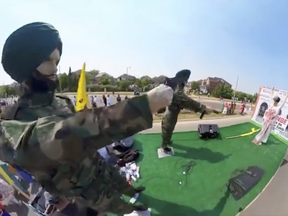 Article content
India's foreign minister is condemning images of a parade said to have occurred in Brampton, Ont., which seemed to portray the 1984 assassination of prime minister Indira Gandhi by her two Sikh bodyguards.
Article content
We apologize, but this video has failed to load.
India angered by apparent Sikh parade float in Canada portraying assassination
Back to video
The Canadian Press has not verified the source of a short video that appears to show a parade float on a suburban street with men in turbans pointing guns at a woman who resembles Gandhi.
India's External Affairs Minister Subrahmanyam Jaishankar argues the incident shows Ottawa's lax approach to extremism.
He says the incident "is not good for relationships" and "not good for Canada."
New Delhi has long argued that Canada's free-speech approach to Sikh separatists goes too far, with some temples found to be openly venerating people connected with acts of violence like the 1985 bombing of an Air India flight.
Article content
Canada's envoy to India also condemned the parade, saying he was "appalled" by reports that it celebrated the assassination.
"There is no place in Canada for hate or for the glorification of violence. I categorically condemn these activities," Canada's high commissioner to India, Cameron MacKay, wrote on Twitter.
At a Thursday press conference in New Delhi, Jaishankar said his government is puzzled that Ottawa gives so much freedom to those advocating for an independent state they call Khalistan.
"It isn't only one incident, no matter how egregious it may be," Jaishankar told reporters.
"There is a larger underlying issue about the space which is given to separatists, to extremists, to people who advocate violence," he said.
"We are at a loss to understand, other than the requirements of vote-buying politics, why anyone would do this."
Article content
Last week, Prime Minister Justin Trudeau's national security adviser said India was among the top sources of foreign interference in Canada, a public designation Ottawa has largely limited to authoritarian states.
Federal agencies have indirectly warned in recent years of India exerting improper influence in Canada, but rarely by name and almost always in internal documents.
Jaishankar said he found it hypocritical that Canada would call out India for interference.
"If anybody has a complaint, we have a complaint about Canada; the space that they're giving to Khalistanis and to violent extremists," he said.
Last fall, the Liberals highlighted India as part of their Indo-Pacific strategy and as a priority for establishing closer economic and scientific ties. Trudeau is widely expected to visit New Delhi for the G20 leaders' summit in September.
Indira Gandhi's 1984 assassination followed the Indian military storming the holiest temple in the Sikh faith, which India argued was necessary to contain the risk of violence by separatists.