Former national security adviser says intelligence leaks putting lives at risk
'If you start having public servants releasing ... highly classified intelligence, you are trending in the direction of chaos'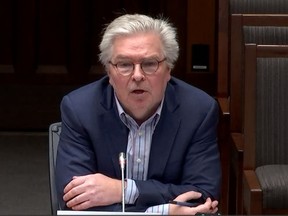 Article content
OTTAWA – Canada's former national security and intelligence adviser told MPs Thursday that the people leaking sensitive intelligence information are not heroes, and are in fact potentially putting lives at risk.
Article content
We apologize, but this video has failed to load.
Former national security adviser says intelligence leaks putting lives at risk
Back to video
Vincent Rigby, who was national security and intelligence adviser to the prime minister (NSIA) from January 2020 until June 2021, told MPs on Thursday, that he welcomes a debate about national security, but leaks are the wrong way to make that happen.
"There are a lot of people out there saying the whistleblower is a Canadian hero — not in my books. Not a Canadian hero and not a whistleblower," he said.
A string of leaks from intelligence sources to media organizations have exposed foreign interference efforts from the Chinese government, including threats to Conservative MP Michael Chong.
Rigby said he fears leaking sensitive information will incentivize others to release information to push their own agendas.
Article content
"If you start having public servants releasing — illegally — highly, highly classified intelligence, you are trending in the direction of chaos," he told MPs at a Commons committee studying the interference targeting Chong.
Rigby said he left his post as NSIA before a document was sent warning about China's attempt to target MPs. He said he never saw a separate memo that CSIS sent specifically identifying Chong as the target of the Chinese government's intimidation effort.
Conservative MP Michael Cooper pressed Rigby on how several pieces of vital information about the targeting of Chong managed to not get to the prime minister.
"Would you consider that this was a significant break down?" Cooper asked Rigby. "Information was passed along to the minister of public safety, the deputy minister, minister's Chief of Staff, and he didn't see it. And then a memo was sent in July of 2021 to three deputy ministers plus the national security adviser to Prime Minister, your successor, and no one saw it."
Article content
Having left his post when the main warning was sent, Rigby said he was not aware of the information, but also said he was not surprised that it wasn't put in front of the prime minister.
"I am not surprised this intelligence was not raised to the political level. This is where the system is particularly weak," he said.
Rigby also said the volume of intelligence senior officials deal with can be daunting and all of it is exceedingly important.
"I read 5,000 to 7000 documents. I would suggest that a lot of those documents, probably the vast majority of them, represent threats to the democracy of Canada. Foreign interference is not the only threat to democracy at the moment," he said.
Rigby called on MPs to recommend major changes to how intelligence is handled in the government. He said it is a consistent problem and politicians are often not given the appropriate intelligence or explanation for it.
Article content
"You can get the best intelligence in the world up the chain and it can go to the political level, but you need someplace to actually receive that intelligence and to discuss it."
Rigby suggested that the government create a permanent cabinet level committee to discuss intelligence with ministers who touch on the subject like foreign affairs, defence and public safety. Currently, the government tends to respond only in crisis situations, bringing together a group of ministers in what is called the Incident Response Group. Rigby said the government shouldn't be thinking about intelligence issues only in a crisis.
Rigby also suggested the government should be more open and transparent with intelligence, sharing more widely with MPs than it currently does and having actual conversations about the threats Canada faces.
Article content
He suggested his former post, the national security and intelligence adviser, should be given more tools and powers.
According to the Privy Council Office, the National Security and Intelligence Advisor's budget, including her office, and the wider NSIA branch is $19.3 million.
The post was created in 2005, but Rigby said it has no real authority over intelligence agencies like CSIS, CSE or the RCMP. He said it needs more legislative authority, funding and staff to be effective.
"It's 15 to 20 people. It's minuscule, so you could look at more people. And you can look at beefing up the intelligence side," he said.
Twitter: RyanTumilty
Email: rtumilty@postmedia.com