First 'virgin birth' in crocodiles has been recorded. What does it have to do with dinosaurs?
Discovery offers 'tantalizing insights' into the possible reproductive capabilities of dinosaurs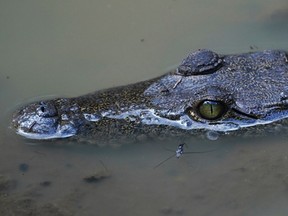 Article content
A zoo in Costa Rica was home to the first-ever recorded case of a crocodile "virgin birth," after a female that had been in captivity for 16 years was discovered with a clutch of 14 eggs.
Article content
We apologize, but this video has failed to load.
First 'virgin birth' in crocodiles has been recorded. What does it have to do with dinosaurs?
Back to video
The case was recorded at Parque Reptilandia in 2018 but was revealed in a study published in the journal Biology Letters earlier this week.
Virgin births, known as facultative parthenogenesis (FP), have been documented in birds, sharks, lizards and snakes in captivity but have never before been recorded among Crocodilia, which includes crocodiles, alligators, caimans and gharials, according to Live Science.
Of the 14 eggs produced by the crocodile, seven were reported to be viable, but none hatched. One of the eggs, however, contained a fully-formed fetus that was 99.9 per cent genetically identical to the mother.
Article content
While the study noted that the outcome is disappointing, it's also not uncommon within litters or clutches of parthenogens. Previously, a nine-year study of FP in turkeys found on average of just 3.3 per cent of parthenogenetic eggs hatch.
After discovering the clutch of eggs, the zoo contacted Warren Booth, who has been studying FP for 11 years and teaches in the Department of Entomology at Virginia Tech.
In an interview with BBC, Booth suggested that parthenogenesis may not have been previously recorded in crocodiles because researchers had not been looking for instances of it.
"We see it in sharks, birds, snakes and lizards and it is remarkably common and widespread," he said.
While virgin births have been recorded in Boa constrictors, Bonnethead sharks, marbled crayfish, Cape honey bees and Komodo dragons, among other species, the discovery of the first crocodile case of FP means the condition has been documented in the two main branches of extant archosaurs, the group that included dinosaurs and pterosaurs. 
Article content
"This discovery offers tantalizing insights into the possible reproductive capabilities of the extinct archosaurian relatives of crocodilians and birds, notably members of Pterosauria and Dinosauria," notes the study. 
"The fact that the mechanism of parthenogenesis is the same in so many different species suggests that it is a very ancient trait that has been inherited throughout the ages. So this supports the idea that dinosaurs could also reproduce this way," Booth told BBC. 
One of the leading theories about why FP occurs in species capable of parthenogenesis is the threat of extinction, with Booth noting this may have happened to some species of dinosaurs when their numbers began to dwindle.
"If this mechanism is found in reptiles, which are evolutionarily older than the archosaurs … then it tells us that dinosaurs and pterosaurs very likely reproduced using this mechanism as well," Booth told ABC Science.