Federal executives took in $1.3 billion in bonuses in 2015-2022, documents show
'Bonuses are for when you do a good job, they shouldn't be handed out like participation ribbons'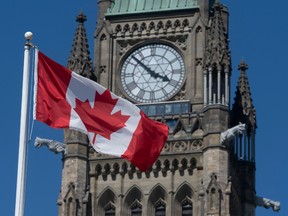 Article content
Federal executives took home $1.3 billion in bonuses between 2015 and 2022, according to documents obtained via an access-to-information request.
Article content
We apologize, but this video has failed to load.
Federal executives took in $1.3 billion in bonuses in 2015-2022, documents show
Back to video
The National Post previously reported in March that federal public servants — both executives and rank-and-file employees — received just under $200 million in bonuses throughout the 2022-2023 fiscal year, despite criticism over failures to meet performance goals.
Most of those bonuses — $147 million worth — went to executive-level employees, while the balance went to those in lower position grades.
The new documents, obtained by the Canadian Taxpayers Federation, list average annual bonuses for executives from 2015 to 2022 ranging between $15,550 to $18,252.
"Bonuses are for when you do a good job, they shouldn't be handed out like participation ribbons," said the federation's federal director Franco Terrazzano.
Article content
"Taxpayers can't afford to bankroll big bonus cheques each and every year for highly paid government executives."
The federation says the annual cost to taxpayers to pay for these bonuses increased by 46 per cent since 2015.
Released in March, a report tabled by Canada's Parliamentary Budget Officer Yves Giroux said examinations of departmental results from across the public service show, over the past four years, that nearly a quarter of annual performance targets aren't met.
Because of that, less than half of internal performance targets aren't met.
"Unfortunately, parliamentarians are often required to approve new spending without having viewed the departmental results," Giroux wrote in his report, The Government's Expenditure Plan and Main Estimates for 2023-24.
Article content
Internal departmental report summaries posted online by the Treasury Board show that of 2,393 fulfilled performance indicators, only 1,361 met established targets, while 702 didn't meet targets, and 330 had no results available.
"The real question is what does a government executive have to do to miss a bonus?" asked Terrazzano.
"The feds need to stop rewarding failure with our tax dollars, and the place to start is with these bonuses."
Typically, senior managers in the executive level are not eligible for overtime.
Recommended from Editorial
According to numbers published online by the federal government, Canada's federal bureaucracy increased from 257,034 in 2015 — consisting of 195,565 employees of the core public administration and 61,469 working for arm's-length government agencies — to 335,957 in 2022, with 254,309 working in core administration and 81,648 employed by agencies.
Article content
The Financial Post reported earlier this year that federal employee compensation increased from $38 billion in 2015 to $58 billion in 2021.
That represents a 53 per cent increase.
Between 88 and 91 per cent of executives received bonuses between 2015 and 2022.
The annual cost of executive bonuses steadily increased, ranging from $138 million in the 2015-16 fiscal year to nearly $202 million in 2022-23.
Throughout the entire public service, government workers were paid over half a billion dollars in bonuses during the COVID-19 pandemic.
Performance measures for executives, Treasury Board Spokesperson Martin Potvin told the National Post, are based on targets specific to their roles and responsibilities.
"Performance pay is an important component of executives' total compensation package but must be re-earned each year," he said.
"The at-risk nature of performance pay helps to hold executives accountable for delivery of results and excellence in leadership."
Executives who don't meet performance targets, he said, are not eligible for bonuses.
• Email: bpassifiume@postmedia.com | Twitter: @bryanpassifiume