Defrocked priest facing new 8 charges of sexual assault in Igloolik, Nunavut
Eric Dejaeger has been charged with dozens of historic sex crimes in Alberta and Nunavut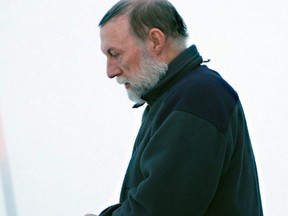 Article content
Court records show defrocked Oblate priest Eric Dejaegerlfljasldkfj;lsfj is facing six charges of indecent assault and two charges of sexual assault for crimes he allegedly committed in Nunavut between 1978 and 1982.
Article content
We apologize, but this video has failed to load.
Defrocked priest facing new 8 charges of sexual assault in Igloolik, Nunavut
Back to video
The records indicate that five of the complainants are female and one is male. Their identities are protected by a publication ban.
A Nunavut Court of Justice document also says that the alleged crimes took place in Igloolik, an Inuit hamlet in the territory's Qikiqtaaluk Region.
Iqaluit RCMP announced Wednesday that Dejaeger was arrested on a Canada-wide warrant in Kingston, Ont., where he was living. Police gave no details about when and where the alleged assaults occurred, but said the charges stem from investigations conducted between 2011 and 2015.
Article content
The former priest has previously been convicted of committing numerous sexual offences when he was working as an Oblate missionary.
He appeared on the charges in Iqaluit on Thursday. His next court appearance is set for June 27.
A court order prohibits him from having contact with the complainants and one additional person.
Dejaeger served part of a five-year sentence beginning in 1990 for sexual crimes against children in Baker Lake, Nvt., committed between 1982 and 1989.
He was then sentenced in 2015 to 19 years in prison for 32 crimes he committed against Inuit children and some adults between 1978 and 1982 in Igloolik. The offences included indecent assault, unlawful confinement and bestiality.
Later that year, he was also sentenced for historical sexual offences against children in Alberta, to be served concurrently with his sentence for the Igloolik charges.
He was given statutory release on May 19, 2022, after serving two-thirds of his sentence.
At the time, Minister of Crown-Indigenous Relations Marc Miller told reporters people like Dejaeger "should rot in jail."
Rev. Ken Thorson, with the Oblates of Mary Immaculate Lacombe Canada, said in a statement Wednesday they "condemn any acts sexual abuse."
"At this point, we have not yet been contacted by police, but we are fully committed to co-operating with authorities as this process continues."
This report by The Canadian Press was first published June 8, 2023.
By Emily Blake in Yellowknife