Chris Selley: Debate over MAID in funeral homes is yet another bizarre distraction
While the federal government continues to grapple with who should get MAID, Quebec is seized with where it's performed
Get the latest from Chris Selley straight to your inbox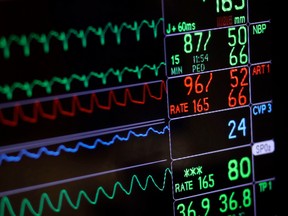 Article content
Quebec has always been ahead of the Canadian curve on legalizing euthanasia. It was Quebec that enacted Canada's first "right-to-die" law in 2015. It was the Quebec Superior Court that struck down the provision in the original federal law on euthanasia that required a "reasonably foreseeable" death; neither the provincial nor the federal government appealed.
Article content
We apologize, but this video has failed to load.
Chris Selley: Debate over MAID in funeral homes is yet another bizarre distraction
Back to video
Perhaps this partially explains a very weird debate that's been broiling in Quebec for the past few weeks. Or perhaps it only makes it weirder. While the federal government continues to grapple with the who, the why and the when of what Canada calls "medical assistance in dying" (MAID), Quebec all of a sudden is seized with the where.
It began last month with a report in La Presse that a funeral home in Saint-Jean-sur-Richelieu was offering what it called a "turnkey"solution for those looking to end their lives via MAID. For $700, the home will provide a room with comfy chairs and couches, and such music and catering as the patient and guests desire. A doctor will arrive and administer the procedure, just as he would at a private residence — which was the chosen venue for 44 per cent of Canadians who died via MAID in 2021. After that, well, the funeral home obviously knows what to do with the corpse — which it (or a competitor) was going to have to pick up anyway.
Article content
Good old-fashioned Canadian practicality!
Or … not so much. Judging from the La Presse report and by reactions from intelligent folks on social media, this hits a lot of people — and by no means just opponents of MAID — like a dirty sweat sock in the face.
Recommended from Editorial
"This emerging practice arouses astonishment and questions among professionals involved in end-of-life care," the newspaper breathlessly reported. The funeral home's proprietor says he didn't speak to his own mother for a month as a result of his providing this service.
The opposition Parti Québécois claims the practice is illegal, and wants it stopped altogether. It doesn't oppose dying in a living room, or one you write a cheque for — 40 per cent of Quebec households live in rental properties. Indeed, the PQ suggests such facilities should be set up in every public health-care facility. In the meantime, they simply want to deny that to people who can afford the $700 and desire the service.
Article content
The government disagrees that the current practice is illegal, and doesn't want to make it illegal. Indeed, it wants to clarify the law to the effect that MAID would be available wherever a person wants to receive it, subject to regulatory approval — presumably including at funeral homes. But it also wants to ban charging or advertising for any MAID-related service (except corpse removal and subsequent arrangements, presumably).
The concern seems to be with "commercializing death," as some pundits have put it.
Commercializing death … in funeral homes. Canada's MAID debate has featured some properly wacky arguments, and that's up there on the leader board.
To be clear, there are many reasonable voices in the debate — Jocelyn Maclure, co-chair of Quebec's Expert Panel on Incapacity and Medical Assistance, told La Presse that with public provision and funding for MAID in place, the location of death becomes "ethically indifferent."
Article content
Exactly.
But in the National Assembly and elsewhere, this is playing out like a bizarre mutation of the overall health-care debate, and the place within public health-care systems for private service delivery and profits.
It doesn't translate at all. When health-care reformers argue for more private for-profit service delivery, the usual response is that it would necessarily weaken the universal public system. That's usually at least theoretically true — but not here. This is just a regular doctor performing a house call; it just happens to be a house for funerals. Worrying about that makes about as much sense as worrying too many Quebecers are dying in luxury homes, rather than in egalitarian hospices or hospitals.
Article content
A lot of money gets spent, presumably, on MAID recipients' final days — favourite meals, last trips, travel for loved-ones. On what possible principle would a Canadian jurisdiction cut them off at the very last moment of their lives?
The overall impression I get is that unexamined knee-jerk reactions, based on not-very-comparable situations, have produced a giant distraction. And the debate in the Rest of Canada over the who, when and why of MAID is no more edifying. Once we allowed a discussion about a medical diagnosis to become a discussion about the "right" to a medical diagnosis, productivity plummeted. We're all talking past each other, even as the horror stories pile up: MAID for poverty, MAID for homelessness, MAID for goodness knows how many other objectively non-medical conditions.
The option remains for a future Conservative government in Ottawa, even if it's unthinkable for the Liberals: Downshift to the original law, which had broad support; invoke the notwithstanding clause if necessary. If we wish to go beyond that in future, maybe we'll be better equipped mentally to think it through.
Get the latest from Chris Selley straight to your inbox