Canadians are back to dining out again with restaurant spending reaching pre-COVID levels
The foodservice industry is experiencing a comeback, according to reports
Get the latest from Laura Brehaut straight to your inbox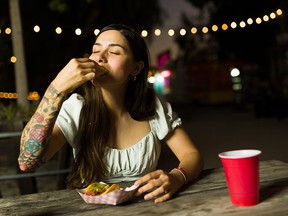 Article content
We apologize, but this video has failed to load.
Canadians are back to dining out again with restaurant spending reaching pre-COVID levels
Back to video
Canadians spent 39 per cent of their food budgets at restaurants from January to March — an increase of four per cent since 2022 and on par with pre-pandemic priorities. "It doesn't mean that we're spending more on food, but it means that foodservice is playing a similar role in our minds compared to pre-COVID. So, we're basically back," says Sylvain Charlebois, professor and senior director of Dalhousie University's Agri-Food Analytics Lab.
Similarly, a recent report from Circana found that visits to restaurants grew by 11 per cent in the first quarter of the year, and spending surged by 18 per cent versus 2022.
With lockdowns in the rearview mirror, dine-in visits jumped by 59 per cent, though eating off-premises (takeout, drive-thru and delivery) is still the most popular way to patronize restaurants, representing 66 per cent of total outings.
Article content
Circana found that changing behaviours, such as people returning to the office, have resulted in increased restaurant visits during the day. This is especially true in the morning, when most people buy daytime meals or snacks at restaurants or other foodservice outlets. Breakfast stops grew by 13 per cent, lunch and dinner by 10 per cent, and afternoon snacks by eight per cent compared to a year ago.
It doesn't mean that we're spending more on food, but it means that foodservice is playing a similar role in our minds compared to pre-COVID.
Small chains and independent restaurants are experiencing even more growth than they did pre-COVID, Vince Sgabellone, Circana foodservice industry analyst, said in a statement. "These restaurants were hardest hit over the past three years, and their growth could be another indicator of an upcoming market transformation."
Article content
With the Michelin Guide arriving in Toronto and Vancouver, and a new crop of top-rated spots to choose from, restaurants are once again being celebrated for what they do best. And though full-service restaurants experienced the highest growth in the first quarter of the year (24 per cent), they were still outpaced by fast food, according to Circana.
Quick service spots comprised 67 per cent of all foodservice visits, followed by full-service restaurants at 22 per cent. (Prepared foods purchased from convenience and grocery stores made up the remaining 11 per cent.)
Recent financial results from McDonald's and Restaurant Brands International (owner of fast-food chains such as Burger King, Tim Hortons and Popeyes) are in line with Circana's findings, says Charlebois. "The quick-service sector is benefitting from a trading down, basically. People still want to go out. There's some revenge spending going on, but at the same time, they can't really afford fine dining as much or even casual dining."
Article content
Restaurants may be benefitting from the urge to buy more to make up for lost time, but they're also contending with the work-from-home phenomenon, adds Charlebois. Even with some employees returning to the office, the restaurant industry faces the challenge of serving an increasingly domestic market.
"Cities are struggling to get people back in town. And so, the foodservice industry is playing a different purpose. And that purpose is about finding an excuse to get out of the house and meet people or experience something different. And you're not going to pay $150, $200 to do that. But you may actually be willing to spend 10 or 15 bucks for that."
Get the latest from Laura Brehaut straight to your inbox