'Bob's Burgers' star Jay Johnston arrested by FBI and charged over U.S. Capitol attack
The 'Bob's Burgers' actor faces charges of felony obstruction of officers during civil disorder as well as several misdemeanour offences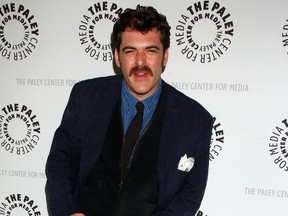 Article content
Jay Johnston has been arrested and charged by the FBI in connection with the 6 January U.S. Capitol attack.
Article content
We apologize, but this video has failed to load.
'Bob's Burgers' star Jay Johnston arrested by FBI and charged over U.S. Capitol attack
Back to video
The 'Bob's Burgers' actor — who voiced Jimmy Pesto Sr on the show and also played Officer Taylor in 'Arrested Development' — faces charges of felony obstruction of officers during civil disorder as well as several misdemeanour offences.
According to court documents, the 52-year-old actor was arrested on Wednesday and allegedly "assisted at least three other rioters by pouring water on the rioters' faces" to help after officers used tear gas.
It's also alleged he used a stolen U.S. Capitol Police shield to fight with police.
The FBI said: "The FBI has interviewed three current or former associates of Johnston, all of whom identified Johnston as the individual in the above photographs of 247-AFO."
They continued: "One of these associates provided the FBI with a text message in which Johnston acknowledged being at the Capitol on January 6, stating 'The news has presented it as an attack. It actually wasn't. Thought it kind of turned into that. It was a mess. Got maced and tear gassed and I found it quite untastic.'"
Article content
Back in March, the FBI shared two photographs of Johnston on social media as they asked the public for help identifying him.
Actor Cassandra Church – who worked with him on 'Harmontown' — responded: "I'm no detective, but I do know Jay. He said he was there. And that's him in the picture. So…"
In 2021 The Daily Beast reported Johnston was "blacklisted" from 'Bob's Burgers' after the images of him were originally shared by the FBI.
Johnston first broke into the world of television as an actor and writer on 'Mr Show with Bob and David', a sketch show fronted by Bob Odenkirk and David Cross.
He also played Officer Jay McPherson — a love interest for Sarah Silverman's sister Laura — in all three seasons of 'The Sarah Silverman Program'.