Prison for dad, house arrest for mom in baby's accidental fentanyl overdose
'This is one of the saddest days that can occur in a courtroom, for all of us'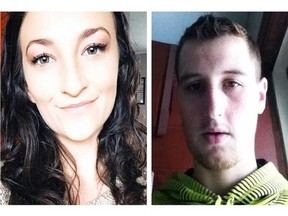 Article content
"This is one of the saddest days that can occur in a courtroom, for all of us."
Article content
We apologize, but this video has failed to load.
Prison for dad, house arrest for mom in baby's accidental fentanyl overdose
Back to video
That comment was made Wednesday by a Sarnia judge as she began sentencing two parents, both recovering drug addicts, for their respective roles in the death of their nine-month-old daughter, who died from accidental fentanyl ingestion or inhalation.
Brock MacPherson, a 31-year-old Mooretown man, was sent to prison for two years for criminal negligence causing death and Katie McPhail, 32, from Sarnia, was handed two years of house arrest for failing to provide the necessaries of life.
Tressa MacPherson died on Nov. 20, 2020.
A coroner found no obvious cause of death after the lifeless infant was rushed to Bluewater Health in Sarnia that Friday afternoon and an autopsy the next day in London found no anatomical cause of death. But toxicology and chemistry reports from the Centre of Forensic Sciences released in early 2021 found a high concentration of fentanyl in the little girl's stomach and concluded her death was caused by fentanyl toxicity.
Article content
It was an accident – the scientific reports and the parents still don't know if she ingested or inhaled the highly addictive and often-deadly opioid – but she had more than seven times a lethal dose in her system.
"The shocking, tragic and preventable death of a beautiful nine-month-old child," Justice Deborah Austin said during Wednesday's sentencing in a quiet Sarnia courtroom filled with a few family members.

MacPherson, a drug user who stopped at a known Sarnia fentanyl dealer's house the night before his daughter died, pleaded guilty to his charge in February, where he admitted to showing reckless disregard for her safety and caused her death through criminal negligence.
"The death of his daughter haunts him and it will haunt him for the rest of his life," MacPherson's lawyer, Joseph Stoesser, said Wednesday.
Article content
His sentencing was adjourned to this week, when McPhail pleaded guilty to her charge before the pair was sentenced simultaneously.
"Katie is extremely remorseful for her actions, or lack of actions that resulted in Tressa's death," McPhail's lawyer, Sarah Donohue, said.
McPhail, through her guilty plea, admitted to failing to provide the necessaries of life by allowing her baby to stay in a basement bedroom where she knew MacPherson used drugs and there was drug paraphernalia scattered around. Police did not find any drugs in the room, but they did discover tinfoil with burn marks, straws with burnt ends, and a digital scale with unknown purple residue, the court heard.
The couple was initially charged by Lambton OPP with manslaughter and criminal negligence causing death in September 2021, about ten months after their daughter died. The manslaughter charges were dropped almost exactly one year ago, but the other two charges continued. MacPherson pleaded guilty to the charge as laid but McPhail pleaded guilty to the lesser included offence of failing to provide the necessaries of life.
Article content
The incident took place in MacPherson's basement bedroom inside his mother's Mooretown home. They normally didn't all stay there together – the baby typically lived with McPhail at her parents' home – but the young family went there that Thursday evening after crashing their car.
"He was not raising his daughter in these conditions." Stoesser said. "There was no intention here."
Still, assistant Crown attorney Sarah Carmody said the baby's death was preventable and has been felt keenly by the family.
"She was only nine months old," she said.
One of Tressa's grandmothers wrote a letter to the court about how losing her has impacted them.
"Our lives have forever been changed, our family fractured and separated. Our grief will last forever," she wrote.
Article content
MacPherson, sporting long, shaggy hair – much different than the short trimmed hair in his social media profile photo – briefly addressed the court before being taken into custody.
"I'll have to live with that for the rest of my life," he said.
Donohue said her client didn't want to speak due to trauma linked to losing her daughter.
Both parents have worked on their addictions issues, the lawyers said. McPhail has gone to several treatment programs while MacPherson, who's been sober for four months, requested going to prison instead of jail due to programs available in the federal system. They both will have probation orders in effect after their sentences expire – MacPherson for two years and McPhail for one – with a ban on using illegal drugs.
Lambton OPP laid criminal charges linked to a baby's death in St. Clair Township, a riverside community of about 14,000 south of Sarnia, twice since 2020. In the other case, a 21-year-old Sarnia man was sentenced last year to six years in prison for manslaughter for shaking his newborn.
A Sarnia woman was also jailed seven months in 2021 for strapping her lifeless infant into a car seat and driving from London to Sarnia before getting medical attention in a ploy to protect her parolee boyfriend.